Escort agency wordpress website
AgencyEmpress is a responsive escort agency WordPress website with all the escort agency features builtin. It has a custom post type for managing multiple escorts.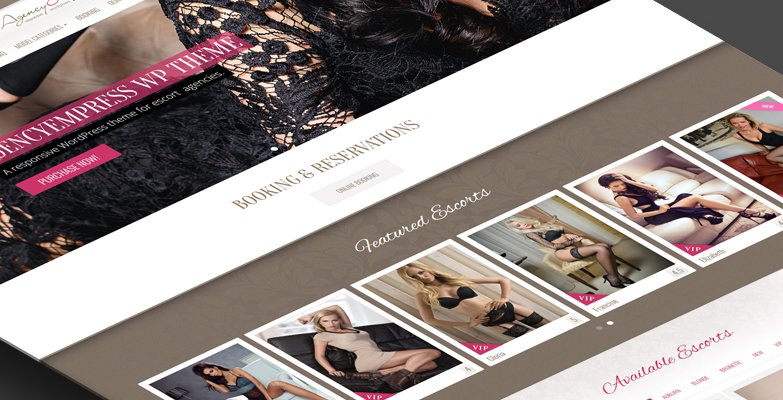 AgencyEmpress WordPress theme will have your website up and running in about 5 minutes with demo content. Once you have the demo setup you can easily edit, change or add your own content, pages, posts and escorts.
Displaying Escorts
With the easy shortcode for displaying escorts you can display all escorts or display escorts from a single or multiple categories. Displaying all escorts is as simple as entering this shortcode:
[display-models]
Since the shortcode does not have any optional parameters it will display all escorts in a grid layout like this:
Using the display-models shortcode you can customize the output of the escorts. In some cases you may want to create 4 or 5 escort categories such as something like this:
New York
Miami
Los Angeles
Houston
Hong Kong
or perhaps something like this:
Red Hair
Black Hair
Blonde Hair
Auburn hair
Brown Hair
then on any page or post you can display the escorts by category. For example if you wanted to create a single page with each escort category in it's own section on the page you can use the following shortcodes to do so:
[display-models cat="New York"]
[display-models cat="Miami"]
[display-models cat="Los Angeles"]
There may be times when you want to display a single section with multiple categories. For example: you want to display a section of escorts who are categorized with "New York" and "Miami". To display multiple categories in a single section add the categories separated by commas.
[display-models cat="New York, Miami"]
or
[display-models cat="New York, Miami, Los Angeles, Houston"]
You can also display escorts in a carousel with a simple shortcode.
[display-models-carousel]
View live example of escorts carousel in action.
There are several parameters that you can add to the shortcode for customizing the output of how the escorts are displayed. You can order them by date, name, id, etc. View all available parameters for displaying escorts.
If you are looking to create an escort agency WordPress website then AgencyEmpress is the perfect solution for your escort website design needs.
View Live Demo Purchase Agency Empress
---